Hey look- it me, crawling out of the tornado that has been 2022!
I think it's fair to say it's bloody impossible to keep up any sort of blog while I'm working, save from the odd non sequitur Tweet.  I tried to sit down and write something over the last few months, I really did.  But to be honest, I had zero brain power left for anything else until right this very second.
I just wrapped season three of Family Law, which was shot over the course of nearly four months, smack dab in the middle of renovating our kitchen, which of course turned into renovating half of our entire house and went approximately a puke-worthy amount over budget.  Season three was a tougher grind for other reasons too, and I felt like I was using every brain cell I had to memorize, prepare, stay awake, and stay rational, so to say I was pushed to the limits of what I could safely handle on a day to day basis is putting it mildly, even for a drama queen.  I know everyone thinks the film industry is full of glitz and glamour and limos, but that's maybe 5% of it, and only if you're in the 1%.  Most of it is incredibly long hours that test your patience and your family's patience, the putting off of things pertaining to keeping a life in order until you wrap (picking up dry-cleaning, going to the bank, grocery shopping in person, seeing friends), the managing of stress and trying to get enough sleep and exercise, putting out the fires and pleasing all the people and parenting a child while still trying to maintain a level of self-care…  Cooking on a hot plate in our garage while the rest of the house was caked in a film of drywall dust was just the absolutely hilarious little cherry on top!
So now that the dust has literally settled and the reno (that was worth it) is over, and now that the show has wrapped, and the other show I had to do right after that has wrapped, and the flu that decided to tackle me just to remind me it was time to sit the hell down and rest has finally left my body… here I am.
I'm almost certain it's too soon to debate what I will actually do on my hiatus, if anything productive at all, so in the mean time, I'm giving myself permission to chill out and feel "normal" again, which, surprise surprise, has meant cracking open my cookbooks and recipe ideas and scouring specialty grocery stores for pleasure.  I wasn't kidding when I said food was my Xanax, friends.  Good news is I've included one of my fave chicken pasta recipes for your butts, especially butts that don't have to fit into pencil skirts on set anytime soon, hey hey!
Oh, also.. Family Law season one is finally airing every Sunday night on the CW at 8pm, so check out that action. Season two's coming for you in January, Canada!  To all who've watched and love it as much as we love doing it (and I do love it, immensely, even if it makes me tired and hysterical), thank you so, so much.  Nothing's dreamier than working with that cast, and I hope I get to do it for an obnoxiously long amount of time.
Happy cooking, happy relaxing, and happy Halloweeeeeeeen….
xoJ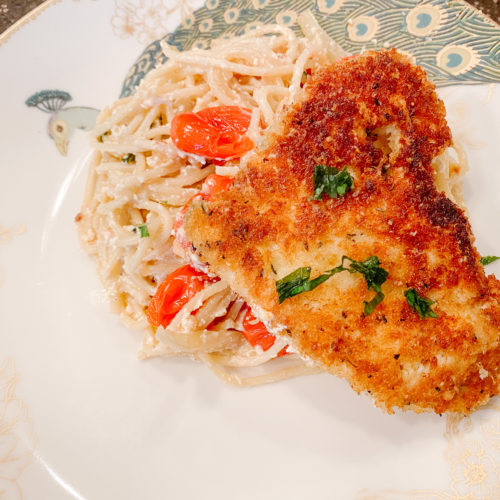 Chicken Milanese with Spaghetti and Ricotta
Ingredients
1

lb

chicken cutlets

(or boneless skinless chicken breast)

1

cup

panko bread crumbs

2

eggs

1/2

cup

flour

1

tsp

dried basil

1

tsp

dried thyme

3

tbsp

Extra virgin olive oil

Salt and pepper

1/2 lb

spaghetti

1

tbsp

olive oil

1

fennel bulb, cored and sliced

2

cups

cherry tomatoes

2

garlic cloves, minced

chopped

1/4

tsp

red pepper flakes

1/4

cup

basil, chopped

torn

1/2

cup

ricotta cheese

1/3

cup

parmesan cheese

freshly grated

Salt and pepper
Instructions
Bring a large pot of water to boil. Add a teaspoon of salt to the boiling water and cook the spaghetti according to package directions. Reserve a ladle full (a cup or so) of the pasta cooking water.

Set up three shallow dishes. Put the flour in one, beat the eggs in another with a splash of water, and put the panko breadcrumbs in the third. Season the panko with some salt and pepper, red pepper flakes, and the dried basil and thyme.

If you couldn't find any cute cutlets and are working with chicken breasts, just slice them through the middle into two thinner pieces and lay them between two pieces of plastic wrap or parchment and pound them with a meat mallet or bottom of a heavy skillet until they're about 1/3 of an inch thick.

Dredge the chicken in the flour, then in the egg, and then coat evenly with the panko. Once they're all ready to go, start the next step for the pasta.

Heat a large skillet over medium heat and add the 1 tbsp of olive oil. Sautee the fennel and cherry tomatoes for ten minutes until soft and the tomatoes are starting to burst. Season with some salt and pepper.

While the fennel and tomatoes are doing their thing, heat another large pan over medium high heat. Add the 3 tbsp of olive oil and cook the chicken for about 4 minutes a side until crispy and golden brown. Set on a paper towel lined plate. Finish with a sprinkle of sea salt.

To the pan with the fennel and tomatoes, add the garlic and red pepper flakes and then taste for seasoning. I always add some extra pepper in this stage cuz I'm just absolutely wild like that. Add a half a cup of the reserved pasta cooking water, the spaghetti, and ricotta cheese. Toss well to combine. If it needs a little more liquid, add a bit more of the pasta cooking water until it's all creamy and delicious. Turn off the heat, and sprinkle with the parmesan cheese and basil.

Serve the chicken on top of the pasta, all seductive-like. Divine.