Some updates!  Travel news!  Convention appearances!  Crispy salmon!  That last one probably feels a little out of left field, but hey.. it's also baseball season, so… fitting!
Firstly, if it hasn't made it to your neck of the woods yet, YES season two of Family Law is coming at you stateside and in Canada this summer, on the CW and Global respectively. I know some of you have already seen it (Hi, South Africa! Hi, Australia!), so get ready for season 3, where we will blow your socks off and make you cry and shake your fists at the TV and all that good stuff.  Haven't seen it yet?  How dare you.  Stream it free on the CW app, on STACK in Canada, and probably other places I don't even know about because I'm technologically inept!
Speaking of technology, I want to tell you about a new social channel I just joined called QP . Think of it as a more personal and interactive social media feed with tiers of subscriptions, like a YouTube meets Facebook meets Twitter, except with less billionaires running the show.  It's totally free to join/subscribe, and I'm loving the questions I'm getting from my followers on there (and am going to try to answer them all!), but there will be exclusive content available in the next tier of subscriptions, like behind the scenes videos from set/travels/at home, hot topics, announcements, etc.  Top level subscriptions get to text with me in a private messaging window!  I'm still getting to know it, and the platform itself is super new, but so far I'm digging it.  Maybe I'll post a cooking video on there sometime soon?  Who knows..  JOIN HERE
Also, I am so happy to say that I've dipped my lil toe back into the convention waters, and I've got a couple of appearances to tell you about.  I'll be in Washington state at Washington Summer Con on June 24 and 25, as well as in the UK for Wales Comic Con May 13 and 14 with a couple Big Damn Heroes by the name of Sean Maher and Nathan Fillion. Hope you can join us for what's shaping up to be a sweet and shiny Firefly reunion. (See what I did there?)  Stay tuned for another stateside convention announcement SOON.. and this one's a biggie.
I love all of your comments and questions and appreciate you so much!  So much, in fact, that I'm sharing my crispy salmon recipe with you below, which I learned during our kitchen reno when all I had was a hot plate, an air fryer, and a dream/Xanax prescription..  That air fryer saved the day on numerous occasions and basically became the appliance I couldn't live without.  This salmon is so easy and so delicious all crisped up in there, I know it's going to become one of your go-to's.  Let me know what you think!
xJ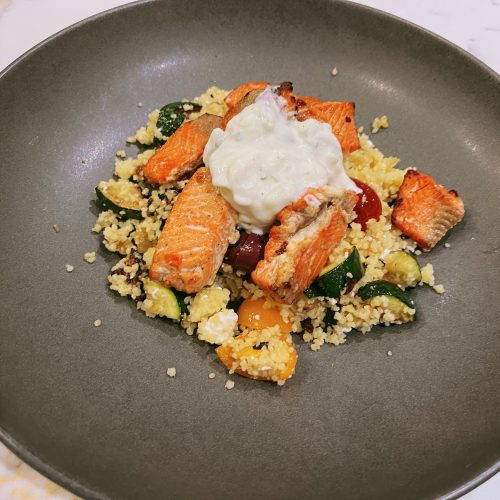 Crispy Salmon and Couscous
Ingredients
2

6 oz

salmon fillets,

skin removed with a sharp knife

1/2

tsp

garlic powder

1/2

tsp

paprika

1/4

tsp

red pepper flakes

a

drizzle

of honey

1

tbsp

extra virgin olive oil

salt and pepper
Cous Cous
1

cup

couscous

1 1/4

cups

water

2

tbsp

butter

1/2

1

zucchini,

chopped

1/3

cup

pitted kalamata olives,

chopped

1/2

cup

cherry tomatoes,

halved

1/3

cup

feta cheese,

crumbled

1/2

yellow pepper,

diced

a

drizzle

of olive oil

2

tbsp

apple cider vinegar

salt and pepper
Yogurt Sauce
1

cup

full fat greek yogurt

the juice of

one lemon

1/3

cup

shredded cucumber

1/2

tsp

garlic powder

salt and pepper
Instructions
Start the couscous. I use a rice cooker for mine, but a medium sized pot works just fine. Pour the water over the couscous, stir in the butter, and 1/2 tsp of salt. Bring it to a boil and then put a lid on it and turn the heat off. Once the water has been absorbed, fluff it with a fork and pour it into a salad bowl to cool.

Cube the salmon into 2 inch chunks. In a medium bowl, combine the garlic powder, paprika, red pepper flakes, honey, olive oil, and some salt and pepper. Coat the salmon in the spice mixture. Preheat the air fryer to 330F and air fry the salmon for about 7 minutes. You can also do this in a pan over high heat with some olive oil or avocado oil, if you don't have an air fryer. But why you don't have an air fryer, I will never know. Didn't we all buy an air fryer in 2020?

Sautee the chopped zucchini in a hot pan with some olive oil for five minutes until soft. Add it to the couscous along with the rest of the veggies and feta, and give it a good stir. Add the vinegar and olive oil and season to taste with salt and pepper. If it needs it, add another drizzle of olive oil.

For the yogurt sauce, squeeze the grated cucumber over the sink to drain some of the moisture out of it. Mix in the rest of the ingredients. *This sauce is amazing on any kind of fish, on pita with grilled chicken or lamb, as a dip for veggies.. I could go on. I always have some in my fridge.*

To serve, pile some couscous on a plate, top with the crispy salmon, and a dollop of yogurt sauce. Delightful.