*Note: if you are highly sensitive to foul language,
1. I don't know how we're friends and
2. You might want to skip this post and find something more wholesome to read
I find all things technological highly annoying, but autocorrect and I have a special relationship. Case in point to the image accompanying this blog, after I finally got fed up with my phone autocorrecting "fuck" to "duck" and googled how to change it within the keyboard settings.  Of course, then every time I tried to type "duck", it corrected itself to "fuck", which made for some interesting conversations.  Fuck fuck goose, peking fuck, you get the gist.  Highly embarrassing when it slips its way into the PTA WhatsApp chat, but then again, embarrassing is kind of my middle name!
The reason Sean Maher and I were talking about fuck I mean duck in the first place was because we've suddenly had a surplus of it over here in the semi-boonies, where I live.  My husband Charlie is a bit of an outdoorsy type, which I'm sure you've surmised from past posts when I've regaled you with stories and recipes from his fishing adventures, like his crab salad on toast.  Once the pandemic hit and everyone's paranoia levels were nice and high, he took things a little further and decided he had better learn to hunt, just in case things went truly apocalyptic (this is proof that, while I may be THE Drama Queen, he ain't far behind).  Our area is mostly farm and marshlands, with birds aplenty, so after acquiring a hunting license, he started with learning to hunt for duck.
Side bar: You may have issues with hunting. Hey, maybe you're even a vegetarian, and that's cool.  But around here, the practice of ethically hunting for your own food in season instead of purchasing it at the grocery store is quite a common tradition.  It's also difficult and time-consuming, but there's something really satisfying about cleaning and preparing your own protein, and then finding different ways to cook the animal, in which there are plenty.  It's faster to buy it, sure.  But you certainly appreciate it more when you've worked hard for it.
I've always loved eating and cooking duck breast in particular, but what I found to be curious was just how many people viewed it as an arduous task, one that should only be reserved for special occasions, or maybe even something you just trust the experts to do. Not so!  In fact, once you get the hang of it, you can jazz it up in lots of different ways.  Think of it like chicken's fattier, tastier cousin.  It's delicious atop a frisee salad (my autocorrect just tried to change that to frisbee like a complete asshole), or next to the perfect roasted potatoes (want that recipe? say the word), or a woodsy mushroom cream pasta.  I'm telling you, if you haven't tried it, you're missing out.  I'm going to share one of my favourite ways of preparing it, along with a crazy-easy way to confit duck legs as well, just in case you've got your hands on the whole bird.  But if you don't have a ruggedly handsome husband who sets out at 6am to walk the marshes in camo and plaid looking like a Filson model, store-bought duck is fine.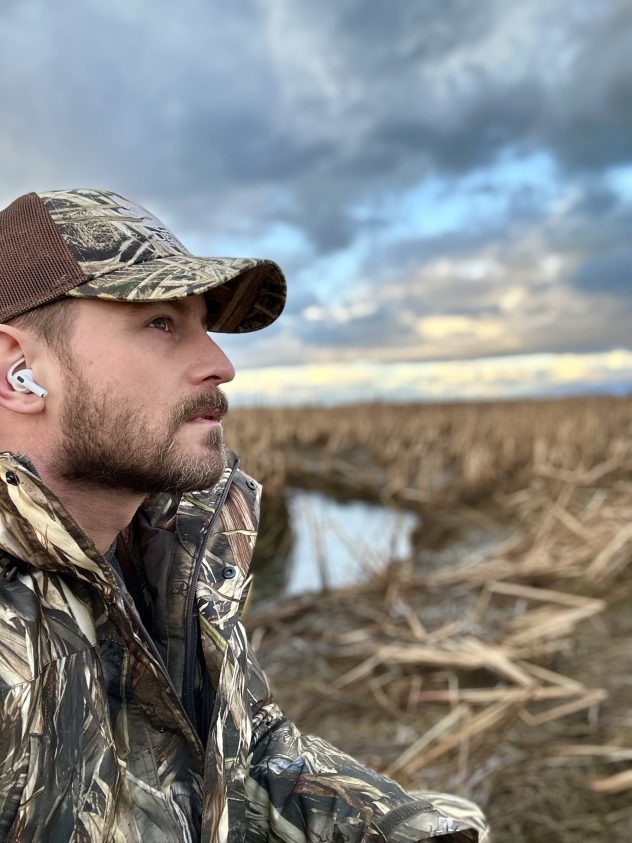 Duck Breast with Cherry Balsamic glaze
Ingredients
2

duck breasts

3

tbsp

butter (I use salted)

1

shallot, finely chopped

1

clove of garlic, finely chopped

pinch of red pepper flakes

2

tbsp/a generous splash

red wine or port (or sub 1 tbsp balsamic vinegar)

2

tbsp

cherry jam (plum or currant jam works great here too)

1/2

cup

chicken stock or broth

sea salt and black pepper
Instructions
Start the sauce first. Heat a pan over medium heat with a tbsp of butter. Add the garlic and shallots, season with salt and pepper and red pepper flakes, and sauté until just golden, about 5 minutes. Raise the heat to medium high and add the wine and scrape up the bits in the bottom of a pan with a wooden spoon, letting the alcohol cook off for a couple of minutes. Add the stock and stir in the jam, and bring it all up to a bubble. Then lower the heat to simmer and cook until thickened, about 7 minutes. Stir in another tbsp of butter to make it rich and glossy, adjust the seasoning to your liking, and keep it on low to stay warm.

Using a meat mallet or the bottom of a heavy pan, lightly pound the duck breasts to an even thickness all around, and score the skin. Take a knife and, careful not to cut all the way through to the meat, make a criss cross pattern in the skin. This helps render the fat properly. Season both sides with salt and pepper.

Place the duck skin side down in a cold pan. Turn the heat to medium and let the fat slowly render out for about ten minutes. Add a tbsp of butter to the pan and flip the duck over to finish cooking, about 3 minutes for medium rare. Using a spoon, baste it with the butter in the pan as it cooks.

Let the duck rest on a cutting board for 5 minutes to let the juices redistribute. Slice it evenly. Pour a few spoonfuls of sauce onto a plate and top with sliced duck. Sprinkle a touch more salt over the top to finish. Divine. Easy. You're welcome.
Slow Cooker Duck Confit
Ingredients
2

duck legs

2

tbsp

olive oil

salt and pepper
Instructions
Add 2 tbsp of olive oil to the bottom of the slow cooker and turn it on to low. Season the legs with salt and pepper and slow cook for 6 hours. Place the legs in a bowl and pour the fat from the slow cooker over the top. Refrigerate overnight, until the fat has congealed over top of the legs.

Heat a pan over medium-high heat. Place the legs and fat in the pan and cook for about 2 or 3 minutes a side, until heated through. That's it. Best little drumstick you'll ever have.