Well, if it isn't January. The month of fresh starts.  The contemplative time in a new year where we stare down our goals and make perky resolutions and all of that exhausting stuff.  Not my fave, to be honest.  Mostly because I am wildly talented at procrastinating and am also moonlighting in the art of self doubt, so it's hard for me to tackle the idea of anything new.  But then this year isn't just any ordinary year.  I'm turning the big 4-0 halfway through it.
The things at the top of my goals-to-tackle list are also expensive, like finally remodelling our kitchen that I hate.  Which then leads to the old cliched fear every actor has– that maybe my show won't get renewed, or I won't book enough work to pay for this renovation, or maybe I just won't work again, ever!  See how these things spiral when you're in the entertainment business and generally rather dramatic from birth?   I never said I was rational!   But I've glowered at this ugly kitchen for a long time now, and for someone who loves to cook, wouldn't it be nice to finally bite the bullet and have the kitchen of my dreams?  Why, yes it would.  So that's happening.  We will be cooking on a hot plate/toaster oven/slow cooker situation out of our garage for the next few months while this reno happens, so please send us your one pot recipes and pray for my already-on-the-brink modicum of sanity.
The expensive goals list also includes some more sentimental ones, like taking my 74 year old mother on a trip just us two, which means I truly am a masochist when it comes to my own sanity, but whatever.  I just want to do all of the things I said I would already, or at least set the wheels in motion.  Which leads me to another goal, one that feels adorably unattainable.  And in no way am I promising to tackle it this year, but talking about it might make me take it a bit more seriously.  Or at least have strangers hold me accountable to it, which is almost as bad.
My husband Charlie does this annoying thing whenever I cook him something he likes in particular.  (To be fair, he is very enjoyable to cook for, because he likes almost everything).  He shakes his head and mutters into his plate, "I'm telling ya… You should write a cookbook.  Don't know what the heck you're waiting for."   Or he just says in this grating sing-song voice, "Cookbooooook!"  Sometimes it's an out of context spouting of pseudo facts, like "Hey, did you know it only takes x amount of sales to be considered a bestseller in Canada?"   And then I usually respond to these things with something snarky, naturally, like, "Oh, I dunno.. Time?  Knowledge?  Actual recipe writing prowess?" etc etc self-defeating bullshit etc.  It's one hot comedy act!
The truth is I've fallen into some strange limbo, waiting to be "good enough" to try.  Isn't that ridiculous?  While I'm certainly no expert, or even close to a professional when it comes to cooking, I'm more passionate about food than I am about anything else in my life.  I could talk about it for hours.  I read cookbooks and recipes for fun.  80% of my social media follows are food-related, and watching foodie Tiktok is the equivalent of having a Xanax for me.  Food is a huge part of my life.  Why shouldn't I be writing about it?   It's also odd that someone like me, an actor who's gone to approximately one million auditions in my 30 years in this godforsaken business and booked maybe 50 of them, has a fear of failure and rejection.  I am literally a professional at rejection!  No one gets rejected like me!  So what's stopping me?
I think a lot of us are running around with these secret dreams, these big beautiful plans that we never expect to come to fruition because we just don't think we're ever going to be ready.  And that's sad as hell.  Who knows what kind of brilliance is out there in hiding from the world, all because its host is too shy to share it?  Not that my cookbook would be brilliant or anything.  Passable, maybe.  I'd probably overshare a lot, but what else is new.  I could, however, potentially experience a lot of joy out of making one, and maybe even more joy in sharing it, if I wasn't so worried about "what people might think".  Weird that some of us would rather sacrifice potentially huge amounts of joy because we're afraid of trying.
Anyway.  Stay tuned for my cookbook, coming in out in 2032!  Just kidding.. ish.  One day I'll get so sick of overthinking it that I'll probably actually do it.  In the mean time, take this as that kick in the pants you might need to start bringing your own big dreams to life.  It's all too short, anyway, isn't it?  What are we waiting for?
While I continue this conversation with my therapist, enjoy this delicious dinner idea down below. It is a food blog, after all.
xo J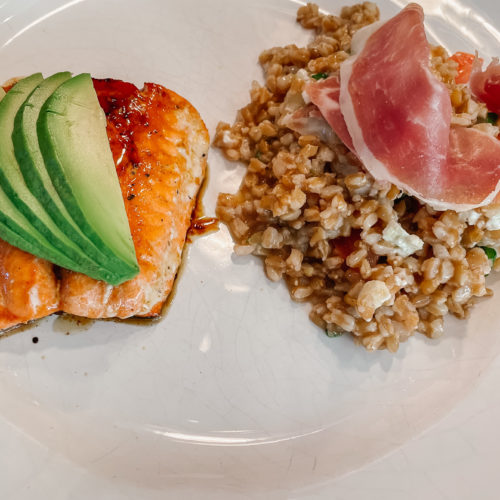 Soy Glazed Arctic Char and Farro Salad
An old favourite and always a crowd-pleaser. Feel free to substitute the char with salmon if you prefer. Also, this farro salad is insanely delicious the next day, too. And a big hit at the ol BBQ.
Ingredients
For the fish:

2

Arctic char fillets

skin on, about 6 oz each

1/4

cup

soy sauce

2

tbsp

honey

1

tsp

sesame oil

1

tsp

fresh ginger

minced or grated on a microplane

1

garlic clove

minced

1

tsp

rice wine vinegar

1/4

tsp

red pepper flakes

1

tbsp

grapeseed oil

(olive oil works just fine too, if that's what you have)

1

avocado

halved and sliced

Salt and pepper

For the farro salad:

1/2

cup

farro

1 1/4

cup

water

1/2

tsp

salt

3

tbsp

balsamic vinegar

2

tbsp

honey

1/4

cup

olive oil

1/4

tsp

red pepper flakes

the juice of 1 lemon

A few strips of prosciutto

1/2

cup

feta

crumbled

1/2

cup

basil

torn

Salt and pepper
Instructions
I always cook my farro in a rice cooker and then spend 40 minutes screaming at it to hurry up, but if you don't have one and prefer to use a stovetop, add the farro, water, and salt to a pot and bring it to a boil. Cover with a lid, turn the heat to a simmer, and let it cook for 30 minutes until the liquid is absorbed.

In a bowl, combine the balsamic vinegar, honey, olive oil, lemon juice, red pepper flakes, a 1/4 tsp of salt and 1/4 tsp of pepper. Drain the farro and toss it with the vinaigrette. Let it sit for 20 minutes or so to absorb all that goodness and cool down. Once it's reached room temperature, add the basil and feta and season to taste with more salt and pepper to taste

Start the glaze. Combine the soy sauce, honey, sesame oil, ginger, garlic, rice wine vinegar, and red pepper flakes in a small saucepan. Bring to a boil and then simmer for 5 or 10 minutes, until thickened. Turn off the heat. If the sauce has gotten too sticky, add a splash of water to thin it out.

Heat another pan over hight heat. Season the arctic char with salt and pepper. Add the grapeseed oil to the pan and cook, skin side down, for 3 minutes. Flip and baste with the soy glaze, then cook for another 3 minutes. Don't overcook it! Take it off the heat right away and drizzle with the remaining soy glaze.

Serve the fish alongside the farro salad. Garnish the salad with strips of prosciutto. Lay some sliced avocado over the char to be fancy.