I love how I thought it was going to be remotely humanly possible to update my blog while shooting that show.  Cute hopeful me!  The truth is, my brain happens to be quite useless at doing anything else while I'm working, mostly because it is utterly consumed with a million tasks and several million lines and basically just trying to stay level and sane.  So I apologize that here we are months later.  But season two of Family Law is in the can, and my life is back to some semblance of normal again, whatever normal means.  I love, love, love my job, and I'm so proud of the work that we do, but I am also loving being deliciously parked on my couch and sleeping in (ish).  I will soak this up for the time being and savour every sweet second.  Until I start to lose my mind with boredom and then it'll be time to go back to work again anyway, right?  Extremes!  I love em!
Season one of Family Law is now airing every Friday night on Global in Canada (also airing in Brazil! Italy! Several other countries I very much want to visit, this is a HINT TO THE NETWORK). But I know my American friends are a bit sore about the fact that it hasn't reached your shores yet.. And I say YET because it'll happen eventually! And when it does, and when I'm allowed to tell you all about it, I will scream it so loud, our neighbours in Seattle will surely complain.  It will be worth the short wait.   I love you for being mad about not being able to see it though because it means you caaaaare and I love you, too.
Another tick in the plus side column of being on hiatus is the fact that I don't have to fit into a pencil skirt come Monday, so my cooking and baking have become a touch more gluttonous.  This also happens when it's cold outside, or close to the holiday season, and I can further diverge into excuses if you need… But I'm including a really goofy sounding recipe here because I had two cravings at once and managed to tick both boxes and also make my own Shake n Bake, which schools my mom's (boxed) version from my childhood, sorry Mom.  If you're not a nicoise salad lover, I don't understand you, but obviously feel free to omit and add to it to suit your own cravings, I will not call the police on you.  Just know that this kooky dish makes people happy, even if your dinner guests will think you momentarily insane, but let me tell you: insane people are INTERESTING.
xoJ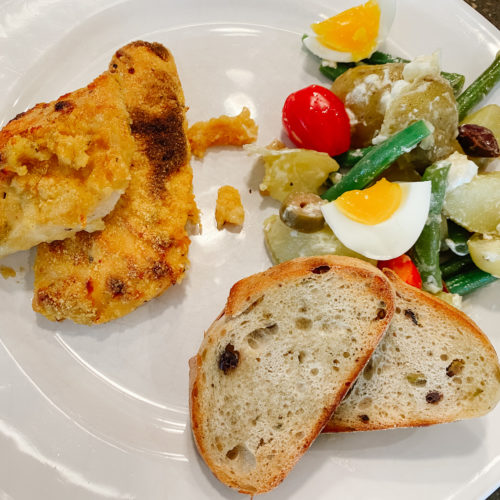 Shake n Bake Chicken Nicoise
Ingredients
Chicken:

1

lb

boneless skinless chicken breast

2

eggs

3/4

cup

cornflakes

1/3

cup

all purpose flour

1/4

tsp

red pepper flakes

1/2

tsp

garlic powder

1/2

tsp

dried oregano

1/2

tsp

dried basil

1/2

tsp

onion powder

1/2

tsp

paprika

1/2

tsp

salt

1/4

tsp

black pepper

Nicoise Salad:

1 1/2

cups

baby potatoes

halved

1

egg

1/2

cup

pitted kalamata olives

chopped

1

cup

cherry tomatoes

halved

1

cup

of green beans

trimmed and halved

1/3

cup

extra virgin live oil

The juice of a lemon

1

tsp

red wine vinegar

1/2

tsp

anchovy paste

1

tsp

dijon mustard

1

tsp

honey

1/2

tsp

salt

1/4

tsp

pepper
Instructions
Preheat the oven to 450F

Butterfly the chicken breast and separate them into two pieces, cutting down the middle. Beat the eggs in a shallow dish with a splash of water. Pulse the cornflakes in a blender until they're the consistency of breadcrumbs. Place those in another shallow dish with the flour, red pepper flakes, garlic powder, oregano, basil, onion powder, paprika, and about 1/2 tsp salt and 1/4 tsp pepper. Line a baking sheet with foil, give it a drizzle of olive oil or spray with some nonstick spray. Dredge the chicken in the egg one at a time, then roll in the cornflake crumb mixture, pressing down a bit to adhere to all of that crumby goodness. Place on the baking sheet drizzle with a tablespoon of olive oil, and bake it for 25 minutes, turning once halfway through. It's done when it's crispy and golden.

Once the chicken's cooking, place the potatoes in a large pot with about a quart of water. Put the lid on the pot and bring it to a boil. Once the potatoes have been boiling for 7 minutes or so, gently put the egg right on in there with them and put the lid back on. Boil it all for another 7 minutes, then add the green beans for the last three minutes of cooking time.

Drain the potatoes and beans in a colander and let them sit and steam, and put the egg in a bowl of cold water to cool. Once it's cool enough to handle, carefully peel the egg and slice it into quarters. Add the potatoes, beans, egg, tomatoes, and olives to a salad bowl. In a smaller bowl, mix the lemon juice, red wine vinegar, anchovy paste, and dijon, then slowly stream in the olive oil and mix well. Pour the dressing all over the salad, season with salt and pepper, and give it a gentle toss.

Sprinkle some course salt on the chicken right when it's hot out of the oven.

Serve the chicken alongside the salad with some good buttered bread. We had rustic olive bread with ours, which I get from Costco cuz I am CLASSY.