Okay so… I was keeping a secret, and secrets are super hard for me, so because of that, I couldn't be trusted to post on here for a bit.  But the secret is OUT NOW and I can scream loud and proud and freely that FAMILY LAW has been picked up for a season two!  No, season one has not aired yet, and yes, it's crazy weird and wonderful to be picked up for a second season ahead of airing the first.  We are so grateful and so excited for this show to be in your eyeballs.  We'll air in Canada on Global in September (Fridays at 9!) and will air in the US and elsewhere soon!  I will tell you when I am allowed to.  They don't tell me anything anymore unless it's a done deal because secrets.  I don't blame them.  I've done it to myself.
Even crazier, we're already in the midst of shooting season two, so my time is minimal and my lazy mornings are a thing of the past.  We're clocking 12-14 hour days, Monday to Friday, and when I'm off, I'm parenting and paying attention to my boys as much as my cross-eyed exhaustion will allow.  But I love it, and I know it's all going to go by in a flash, so I'm soaking up this experience as best I can while I have it.  I really, really cannot wait for you to see this beautiful show.
But here I am on a morning off!  I slept in until 7am!  I went to the bank!  I read three pages of a book!  And I'm writing to you, just to affirm where you lie on the list of my priorities.  Also to share delicious foods with you, because yes, I'm still cooking on the weekends and — extra bonus!– my Family Law cast also loves to cook, so we are one big happy food-obsessed family over here.
I tried that baked feta tomato thingy that's been circulating around the internet on for size, and besides being easy and super delish, it's also fun to mess around with and make it your own.  We seared scallops with ours and poured the entire scrumptious thing over a bed of pappardelle pasta, and it was so good, it was worth sharing immediately.  Please don't be intimidated by scallops. They are so, so easy to cook, as long as your pan is screaming hot, and you don't leave them in for more than a couple of minutes.
This pasta works well with chicken.  Or shrimp.  Whatever. Go to town.  Tell me how it went.
I'll come say hi again soon.. off to do some fake lawyering…
xo J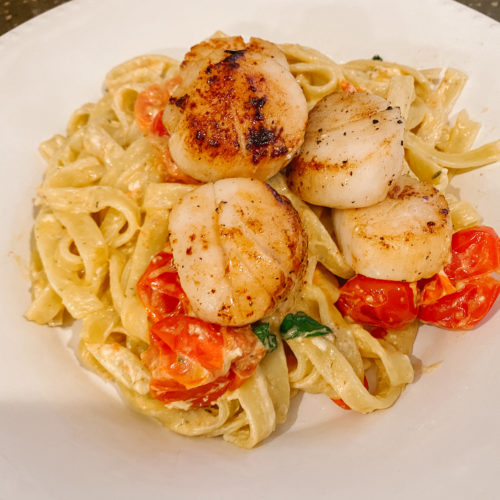 Baked Tomato and Feta Pappardelle with Seared Scallops
Ingredients
1 1/2

cups

pappardelle pasta

(about half a package)

2

cups

cherry tomatoes

4

cloves

of garlic

chopped

1

tsp

fresh thyme leaves

1

block of feta cheese

6 oz or so

1/3

cup

extra virgin olive oil

1/2

cup

of basil leaves

torn

8

fresh

good quality scallops (this is where you spend your money, honey)

4

tbsp

butter

Salt and pepper
Instructions
Preheat the oven to 400F.

In a 9 by 13 baking dish, toss the tomatoes with the garlic, the thyme, and a generous drizzle of olive oil, salt, and pepper. Set the feta in the centre of it all and drizzle with another little bit of olive oil, and season it all with the red pepper flakes. Bake for 30-40 minutes, until the tomatoes have burst and the feta is all gooey. I'd eat this right here right now with a damn spoon.

Cook the pasta according to package directions, reserving a ladleful of the pasta cooking water (notice I do this every time? It's cuz it saves your ass if your pasta sauce isn't creamy enough. Just watch your sauce's salt content if you've already salted the pasta water, cuz that gets interesting, hoo-boy).

Mix the baked feta into the tomatoes with a wooden spoon. Toss the pasta in the tomatoes and feta, sprinkle with the basil, and taste it to see if it needs more salt and pepper or red pepper flakes. Add a bit of the pasta cooking water to help sauce it up.

Heat a sauté pan over high heat-- it's gotta be hot to prevent sticking. Add two tbsp of butter. Pat the scallops dry with a paper towel and then season them with salt and pepper. Sear them in the hot pan for 2 minutes, then turn and sear for 1 more minute on the other side. Add the remaining butter and turn them around in it, giving them a nice butter bath. Take them off the heat immediately.

Serve the pasta with the scallops on top. Accept that marriage proposal that is surely coming to you. Unless you're not into that, in which case, have a really nice awkward evening.