Sometimes it can be a little tough to update this page.  Not because I don't want to.  But because writing about what we had for dinner and my day to day suburban escapades when the world is going to hell and losing its mind just seems so frivolous and… well… indulgent.  And I'm not fishing for compliments here.  If you've been reading this blog over the last few years, I think it's probably fair to say you're not expecting a Pulitzer Prize-winning piece or anything.  You're probably familiar with my wheelhouse, which is jokes and food and the occasional whining about parenting.  But in my real day to day life, I'm a bit of a news junkie, a seeker of statistics, and a grade A all-around champion worrier.  I have to force myself to basically make time to take breaks from all of it.  I've gotten a lot better at self-regulating over the years, at remembering that there's only so much I can do, or take on, so I do my worrying and my reading and fretting, and then I get outside in the woods or whatever it is I need to do to hit the reset button.  Even writing this feels off, because my life's so good, all I have to worry about is all the worrying I do, and then I can just take a break and meditate in the middle of the afternoon to feel better.
My, what problems!
I used to have this weird fear that when things were going really well for me, it was only a matter of time before it all came crashing down.  Sometimes I would even instigate that crash if I could, just to get it over with already.  I think I felt embarrassed about my successes, and I'd downplay it all in front of people to make myself look like I had less.  I figured I was easier to like if I was less successful, and had less of what other people wanted.  In case you're wondering, it's an ugly cycle that leads to nothing but lack, so I've learned not to do that anymore.  I've learned how to feel appreciative of what I have and what I've worked so hard for, without adding any shame to it.  I donate what I can to causes I care about.  I spread awareness to those causes as much as possible.  I try hard to stay mindful and grounded, and I try to do that while taking care of myself, too.  But if you're like me and about to come out of this pandemic and total shitshow of a year and a half completely unscathed, you can't help but feel really sheepish and also somehow unbearably, heart poundingly fortunate.
So.  I'm going to keep updating you on my life and sharing food ideas with you, because you also might want a break from the world for a second.  I'm going to try not to feel guilty about it, or overthink it, and, if you're looking for it, I'm hereby giving you permission to stop overthinking, too.  If you want a newsy Pulitzer Prize-winning piece, I'm sure you can find a great one and have yourself a good cry.  In the meantime, take a breath, relax, and eat some delicious salmon.
(Also.  Overthinking less means posting more, so get ready for some really inane shit coming your way!)
Stay safe.  Wishing all of you the best day.
xoJ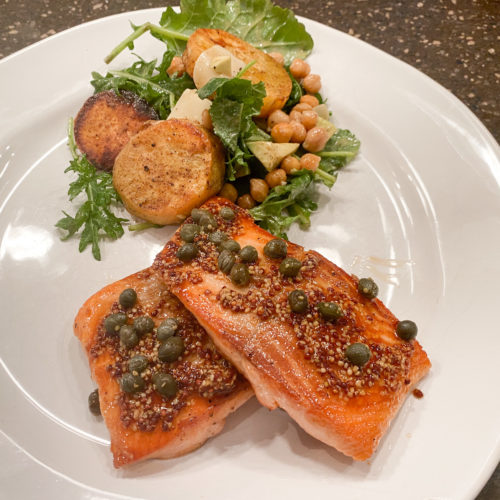 Salmon in Caper Vinaigrette with Warm Chickpea and Potato Salad
This is my new favourite way of cooking salmon, and I could eat both of these servings myself, it's so good. This vinaigrette is a game-changer, and I dare you to put it on any protein you like. Halibut! Chicken! Scallops! A lovely and delicious seared steak! Have at 'er.
Ingredients
FOR THE SALMON

2

salmon fillets

skin off, 6 oz each

1

tbsp

capers

2

tbsp

balsamic vinegar

1

tbsp

grainy mustard

2

tbsp

olive oil

salt and pepper

FOR THE SALAD

1/3

lb

Yukon gold potatoes

1/2

can of chickpeas

drained

1

cup

of arugula

1/3

cup

fresh mozzarella or bocconcini cheese

cubed

1

avocado

diced

1

tsp

dijon mustard

1

tsp

apricot jam

1

tbsp

balsamic vinegar

5

tbsp

good quality extra virgin olive oil

Salt and pepper
Instructions
Preheat the oven to 450. Leave the potatoes unpeeled (or peel them if you want, you're the chef) but slice them into disks. Line a baking sheet with foil or parchment unless you love cleaning baking sheets. Toss the potatoes with 2 tbsp of olive oil and season well with salt and pepper. Roast for 20 minutes until tender.

While the potatoes are cooking, mix the vinaigrette for the salmon. Add the capers, grainy mustard, balsamic, and olive oil in a small dish until combined. Season with a little salt and pepper.

Once the potatoes are out of the oven, line another baking sheet with foil or parchment and drizzle the salmon with half the caper vinaigrette. Season with salt and pepper. Roast in the hot oven for ten minutes, turning once halfway.

Toss the potatoes, chickpeas, mozzarella cheese, avocado, and greens in a bowl. Mix the salad dressing ingredients in another bowl: mustard, apricot jam, balsamic, and 3 tbsp olive oil. Pour it all over the salad mix gently. Season the salad with salt and pepper to taste.

Drizzle the rest of the caper vinaigrette over the salmon and serve alongside the salad. Voila.