Hey kids! Happy summer! It's here, and it's hot, and margaritas are acceptable in the middle of the afternoon!  I call them attitude adjustments!
I just wrapped a job, and I've got a few blissful weeks of Nothing where I get to sleep in my own bed, procrastinate on remodelling our house, and follow my toddler around while he does things like eat ants and throw rocks at the neighbour's fence. The beauty of being an actor is that you work like hell for a shortish spurt, and then you get to sit on your duff and do sweet F-all for a little while, as long as your agents still believe that losing cell service is a thing.  I am going to relish all of this free, languid time as much as I can by doing the things I love, one of which is of course cooking my buns off.
I want to share a few of these recipes I've recently come across, but I don't want you to be put off, so just clear your mind for a quick sec and leave it open, okay? Because these recipes are all salads. And you know me. You know I don't believe in salad as a meal, and I think a lot of them are about as exciting as the DMV, but hear me out: these aren't just any salads. These are delicious, crave-able, packed with flavour salads you can serve alongside your burgers and BBQ, and I know for a fact that they'll please a crowd because they pleased my family and closest friends who are incapable of lying to my face, especially when it concerns me feeding them. So trust me. Okay?  These are awesome.
Full disclosure: these are ripped from outside sources and varied slightly, so I will take only a bit of credit. I didn't even take the photo, because my beautiful friend Trish is better at taking pictures than I am. I'm just your guinea pig-like vessel, sharing my finds and successes with you, because that's what friends do. And they're too good not to share. Ps I'm including a wee margarita recipe, so you too can have an attitude adjustment!
Grilled Peach and Feta Salad
INGREDIENTS:
6 peaches
1/2 thinly sliced red onion
2 tbsp balsamic vinegar
2 tsp honey
2 tsp dijon
1/2 cup walnuts
1/4 cup each basil and mint
1/4 cup crumbled feta
salt and pepper
DIRECTIONS:
So, I like to grill my peaches slightly because it caramelizes them and adds another element to the salad. You don't have to. But you should, because I know best. So run a knife all the way around your peach, twist and split them into halfs. Remove the pit. Drizzle each half with olive oil and season with salt and pepper, and grill over medium-high heat for about 4 minutes until some nice grill marks appear. Slice into wedges.
Soak the sliced onion in some water for minimum ten minutes. This cuts the bitterness out of the raw onion.
Whisk the honey, balsamic (the recipe calls for white wine vinegar, but balsamic is richer and better with the grilled peaches in my correct opinion), and dijon together, then slowly whisk in the olive oil. Season with salt and pepper.
Lightly toast the walnuts in a hot pan for a few minutes. Toss the walnuts, drained sliced onion, the peaches, the basil and mint, and the dressing together in a hot bowl. Sprinkle with feta because why wouldn't you?  Serves 4
Grilled Vegetable Panzanella Salad
INGREDIENTS:
1 large baguette, cut into 1 inch thick slices
2 zucchini, cut lengthwise into 1-inch thick slices
1 red bell pepper, cut into quarters
1 yellow pepper, cut into quarters
1 pint cherry tomatoes, halved
1/2 cup basil, torn
1 cup bocconcini cheese
1/4 cup balsamic vinegar
1/4 cup apple cider vinegar
1/2 cup olive oil, plus more for drizzling
DIRECTIONS:
Drizzle the baguette slices with olive oil and season with salt. Drizzle the sliced zucchini and bell peppers with olive oil and balsamic vinegar, then season with salt and pepper. Grill over medium-high heat, about 10 minutes. Take off the heat and cut the bread and vegetables into one inch cubes.
Whisk the apple cider vinegar and olive oil together, season with salt and pepper. Toss the dressing with the bread and grilled vegetables, the cherry tomatoes, and the basil and bocconcini. So easy and so good, OMG.  Serves 4
Mango Peanut Coleslaw
INGREDIENTS:
1 mango, peeled, pitted, and sliced thinly
1 red pepper, thinly sliced
1/2 red onion, thinly sliced
1 jalapeño, seeded and minced
1/2 cup parsley, chopped
1/2 cup cashews, chopped
6 cups of coleslaw mix (or 1 grated cabbage with 2 grated carrots)
1/3 cup mayonnaise
the juice of 3 limes
1/3 cup mango chutney
salt and pepper
DIRECTIONS:
Mix together the mayonnaise, the lime juice, mango chutney, and some salt and pepper. Set aside the dressing.
Toss the rest of the ingredients together and mix well. Coat in the dressing, and season the salad with salt and pepper. That's it. You're a genius. Serve this as a side, or on fish or chicken tacos. WHOA, MIND BLOWN.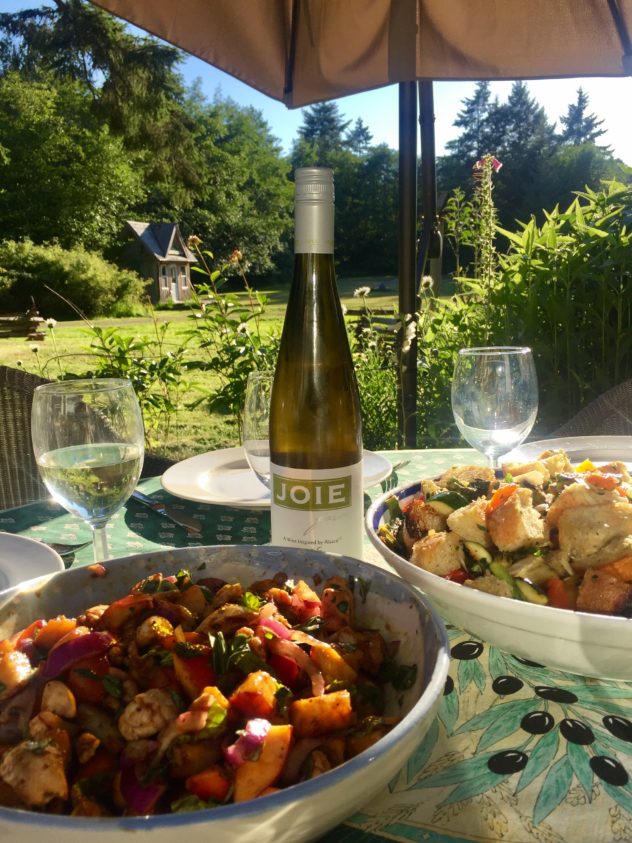 …. and a margarita to match. I got you.
Pineapple Jalapeño Margarita
INGREDIENTS:
1 pineapple, cut into chunks (leave out 4 chunks for garnish to be all fancy)
half a jalapeño, roughly chopped
the juice of 4 limes
the juice of one orange
3 oz cointreau
3 oz tequila
a handful of fresh basil, roughly chopped
DIRECTIONS:
Get that blender out and blend everything together. Serve over ice in a glass rimmed with salt, if desired. This'll make 4 margaritas, so you're good for the rest of the day, pal.
XOJBR