Fair warning: there's gonna be a lot of bragging in this post. Also: I realize I do a lot of bragging as it is but you know what, live with it.
So we've established that I am not outdoorsy. I do not sleep in tents. I don't crouch in dirt to pee unless I'm intoxicated and/or at some sort of music festival someone else bought tickets to. I would probably be the very first person to call 911 from a kayak.  My best friends in the world have been trying to convince me to go camping for a frustratingly long amount of time (frustrating for both parties), so you can imagine how much they want to tear their hair out, because it took a boy to convince me to give "the great outdoors" a try.
I should say he's not just any boy. He's a tall, blonde, blue-eyed piece of grade A Canadian bacon who does things like cook epic breakfasts for me every day and walk my bratty dogs and offer massages and carry me home when I've chanced wearing a 6-inch Jimmy Choo heel all night long like some sort of rookie. He's also maddeningly skilled at everything, as in most sports, most languages, most instruments (he plays classical piano pieces that last for fifteen minutes BY GODDAMN EAR), scrabble and chess and probably sanskrit and can most likely write you an award-winning poem in calligraphy. I would want to strangle him if he weren't so sweet and humble. Seriously, the only flaw I've found in the guy is that he likes to keep and eat leftovers from the fridge for an alarming amount of time, which is disgusting but also strangely adorable. Also: have I mentioned he's insanely hot?
As you can imagine, it took very little convincing for Charlie to get me on a boat with a fishing pole in hand. He's of course been fishing his whole life and was utterly confident we would catch some huge giant thing (we didn't) BUT I did catch a ling cod that looked relatively sizeable if you angled the camera just right and held it as close to the lens as possible. And it made the freshest best fish tacos (recipe follows, there is a point to all of this gushing, I swear), which is most important.  And my actual experience actually fishing?  Surprisingly kinda fun. Mostly you just wait around drinking beer (yes, I drank a beer, try not to faint) until something happens and then it's all pandemonium and screaming which was me, not Charlie. But strangely, surprisingly, I would do it again. But before everybody gets all excited, I will remain sleeping in an actual bed and peeing in a toilet, thanks.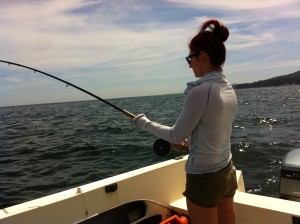 Recipe as promised!  It's so easy and there are a couple of fancy tricks in there to impress your own Charlies, so get after it.
FISH TACOS for 4
INGREDIENTS:
2 8 oz fish fillets, skin removed and picked clean of bones. We used ling cod here obviously, but halibut works, too. Make sure your knife is crazy sharp to get the skin off and cut away at it gently starting at the thickest end and peeling it back as you go with your hand. If this intimidates you, get your fish guy at the market to do it for you.  As for the bones, tweezers work. Just wash them after or your eyebrows'll smell like fish.
2 tbsp extra virgin olive oil
1 tbsp unsalted butter (I always use unsalted butter in everything I cook so you can control the salt content in your food and season it yourself as you go)
3 limes
2 cups shredded cabbage (you can buy this pre-shredded in a bag at the supermarket)
2 tomatoes, diced
2 avocados, diced and squeezed with the juice of one of those limes so the avocado doesn't oxidize and turn brown
8 soft shell flour tortillas
2 cups grated monterey jack cheese
1 cup plain greek yogurt
1 cup sour cream
1 jalapeno
1 cup finely chopped cilantro
a few basil leaves, chopped
store-bougt salsa for garnish or make your own (show-off)
salt and pepper
DIRECTIONS:
First things first: make your fancy sauce. Put the jalapeno on a cookie sheet under the broiler until it's blackened, turning it every few minutes as you go.  Put it in a bowl and wrap the bowl in plastic wrap so it can steam for ten minutes. Once that's cooled enough to handle, peel the skin off with your fingers, and scrape the seeds out of the jalapeno to dumb down the heat a bit (or leave them in if you like things super spicy). Give it a lazy chop and throw it in a food processor or blender. Add the sour cream, the yogurt, a healthy pinch of the cilantro, all of the basil, the juice of one of the limes, and a pinch of salt and pepper. Add a small splash of water and blend it into a creamy sauce. You can use this delicious concoction on a steak wrap, chicken burger, roasted potatoes, basically whatever you want.  It's awesome.
Mix the coleslaw in a bowl with a pinch of salt and a few healthy tablespoons of the jalapeno sauce to dress it. Squeeze with the juice of another lime. Set aside.
Heat a frying pan over medium-high heat with the olive oil and the butter. Don't be a baby about the fat here– fat is what is going to give the fish its flavour and also keep it from sticking to the pan. Season the fish with salt. Fry on one side for about 3 minutes and flip gently and fry another 2 minutes max. Squeeze with the juice of the remaining lime.
Heat your tortillas. You can either do this on a gas stove over a direct gentle flame until they're warm and super soft, or pile them on a plate and place a damp paper towel over top and microwave on high for a minute.
Arrange your tortillas and all your fixings, your sauce, and your fish on the table and let everyone build their own. True love! Bye!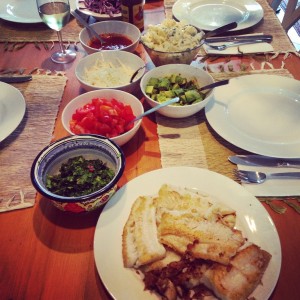 XOJBS